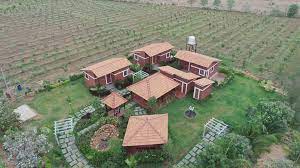 First we look at Agricultural Investment Funds. These managed investment vehicles – available under the banner of most major investment houses – operate in the same way as other types of investment fund, gathering together the capital of smaller investors and participating in larger transactions such as buying up 1,000's of hectares of managed farmland in various countries and essentially positioning themselves as very large global farm owner operators. Investors profit from rent received from the farming tenants, the sale of crops, the resale of the agricultural land at a later date, or a combination of all three exit strategies.
Investors benefit from expert management, and portfolio diversification, and agricultural funds have performed very well recently, as have all agricultural investment modes.
Next we take look at the most hands on form of agricultural investment, direct farm ownership with a view to working the land and selling the crops. This type of investment strategy is by far the most hands on, and high risk, of all investment strategies, and shouldn't be undertaken by anyone without a serious level of expertise and experience in the farming sector. It really is not simply a case of fulfilling the country dream, farming is a serious business.
In terms of UK performance, 88% of farms in the UK were profitable in 2009, and farmers also receive EU subsidies in Euros, ensuring that farmers in the UK have also recently won big on currency swings and the devaluation of GBP Sterling.
Now we look at perhaps the best in terms of the middle ground, an investment strategy that allows us access to an appreciating asset in the form of farmland, and an income yield in the form of rent, whilst at the same time avoiding huge management fees and the issue of having to farm the land ourselves.
This middle ground strategy in agriculture investment involves buying arable land and leasing it back to a framer who farms crops. This is, I believe, the best strategy for investors wanting a hands-off investment, yet still utilising the asset to produce income, as well as benefiting from capital growth.